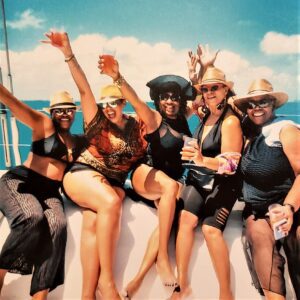 Michelle Obama, Angela Bassett, Viola Davis, Kamala Harris, Tamron Hall, Regina King, Serena Williams are all in that sweet spot of 40 – 65 which they call middle-age; but honey, call it what you want to cause We Ain't Dead Yet and we are still Living This Life To The Fullest through travel. 
Sure, life with our aging parents, college kids, demanding jobs, retirement planning and our own health issues leave us no time to recover before another shoe falls and we often feel like we are running a breathless race but honey, We Ain't Dead Yet! 
We are married, single, divorced, widowed and over relationships in general but we aren't defined by a status because we are self-confident; self-assured; and filled with self-love!
If you can relate Sis, then you're home!
We are building a travel tribe of graceful, dignified, classy and supportive sisters that know who they are and know what matters most in their lives and refuse to compromise self care and/or self priorities at any price.
We have come to realize that the greatest gift that we can give this world is to love ourselves first and to LIVE LIFE TO THE FULLEST EVERYDAY through travel and more!
We are in our zone and a force to be reckoned with! We ain't bout no drama and no mess!
WE ARE TOO BLESSED!!