OUR 2022 & BEYOND CONTAGION STATEMENT AND COMMITMENT TO OUR CLIENTS!
COVID-19 has changed our world for today and honestly, probably for a very longtime to come; if not forever.
This pandemic has changed every part of our world. We now talk of how we live with this new enemy verses how to defeat it. It has truly changed the world as we once knew it and in some ways for the better. 
The travel industry, like many others, was hard hit with deaths, illness, staff reductions, closures and more. Service levels have definitely changed as resorts and suppliers struggle to maintain staff and revenue to keep going. I think the whole world is so tired of Rona!
The world is finding new ways to live with Rona and the travel world is no different, which is a very important fact to remember.
Travel today is very different that pre-Rona.
I know that you, like I, love to travel but there are new considerations when traveling and it's very important that we all take time to consider all the many potential impacts. The situation is still very fluid with constant change and we still need to be prepared for temperature checks, required masks, required vaccinations, booster shots, required PCR tests 24 – 72 hours before departure and return,  wiping down flight seats, window seals and tables with disinfectant wipes, wearing gloves, quarantining in resorts and government facilities for 24 – 72 hours or possibly days. Each country utilizes different protocols for dealing with Covid-19 and there is no promise how things will change from one day to the next.  We must insure that our temperament and patience are ready for this new travel world that we are living in which brings last minute flight cancellations, last minute resort closures, less resort staff, frustrated and ill mannered workers and unexpected last minute Covid-19 diagnoses for the traveler.  
It's all so overwhelming but we must pack our patience and evaluate the "what if" with every planned journey. We truly must be ready for anything, at anytime! Country protocols may change in the middle of your travel journey, destination establishments may have entry requirements on top of the country entry requirements, flights might be re-routed or even cancelled, a full list of resort and destination amenities and offerings may not be available or limited, airline & resort staff may be less than cooperative and in some cases lacking knowledge of current day entry requirements. It is now, more than ever, most important that we are informed as travelers. It is imperative that we read the fine print, understand the entry protocols, prepare and prepare again and become armed with travel knowledge and documentation.
2BusyNot2Travel is still traveling and attempting to Live Life to the Fullest within the requirements and constraints of travel but with new group traveler requirements. Of course our boutique group concept already helps by limiting the number of those you might be exposed to when traveling with a group but we are asking for our travelers to inform us of their status and stand regarding vaccinations so that we may always have every 2BusyNot2Travel travelers best interest at heart. We are still committed to fulfilling your wanderlust and to sharing our knowledge and advice regarding all things travel related and committed to future travel as we learn to live with this contagion and we ask for your partnership in helping all 2BusyNot2Travel travelers healthy.
As always, we are ready to support your future household travel plans by providing you well-organized and customized itineraries with affordable monthly payment plans. We are still here and we are in this thing together!
2BUSYNOT2TRAVEL SERVICES ARE MORE IMPORTANT THAN EVER!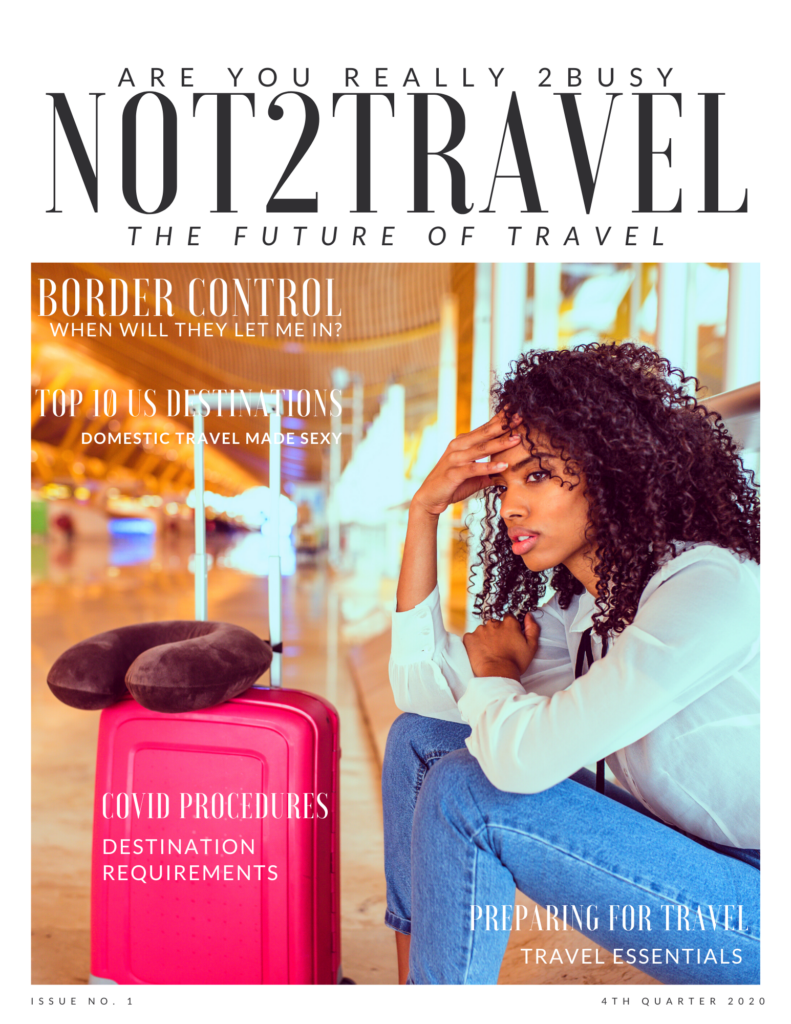 Have you considered that the Corona Virus is here to stay like the Zika Virus or Bird Flu? Have you really considered what all the impacts to your travel plans might be? 
It has been said that the only two things that are absolutely certain are death and taxes but I employ you to also add change and uncertainty to that list.
If it is to be, it will happen to me!  
We Are Trained Risk Managers
2BusyNot2Travel consultants are always thinking about what-if!  We are always planning for the uncertainty of travel and life in general. You can leave the worry to us and feel confident that your journey will be smooth sailing as we light the pathway to your destination and for your return home. Our leader being an experienced, tried and true project management professional (PMP)
 

has been thoroughly trained in analyzing risks and issues potentially present in each situation.
We Are Experienced Travelers
2BusyNot2Travel consultants are frequent travelers, with very discriminating taste and provide resort recommendations based on first hand experience. We have traveled to 5 of the 7 continents and specialize in Caribbean,  African and European travel. We have experienced lost luggage, delayed flights, missed connections, imperfect accommodations, poor service, hurricanes in destination, rough waters at sea, cancelled flights, and more. We know travel and the perils of travel and we mitigate and solve problems you don't know you have in ways you can't imagine.
We Are Consultants Providing Personalized Service
2BusyNot2Travel provides services in a consultative approach, we don't provide drive -thru service! We understand the importance of cultivating relationships and will never consider you as simply another number in a crowd of numbers. We cultivate and customize journeys specific to you and your travel partners. We take time to get to know you, your dreams and realities. We respect the investment of travel and we are committed to cultivating the most memorable journeys filled with laughter, cultural experiences, exciting activities, and accommodations that leave you wanting more.
We save you hours of research to find every nuance of arriving at your destination. There is so much constant change in travel restrictions and travel requirements and we cut through the noise and simplify the message.

We give you a single point of contact; enabling you to avoid the hours of hold time and hang ups when attempting to gain perspective from travel vendors and destination management companies. We spend the hours on hold and experience the hangups so you don't have to. You receive a direct line to your travel support and not a faceless 1-800 or 1-866 number. 

We are skilled in identifying ways to include extra perks, discounts and upgraded amenities

 We plan itineraries with every level of detail so that all you need to do is arrive in destination and allow others to spoil you while all you do is sit back and enjoy without a care in the world.